Free disposable email address generator
Generate random throwaway email address that forwards all incoming emails to your primary email address. Stay anonymous and protect your main email address from unwanted emails.
250 000+ users
How to create a temporary email address with SimpleLogin?
Hide your real email address from undesired emails and stay private while browsing online.
1.
Generate address like
temp0rary.em4il@simplelogin.com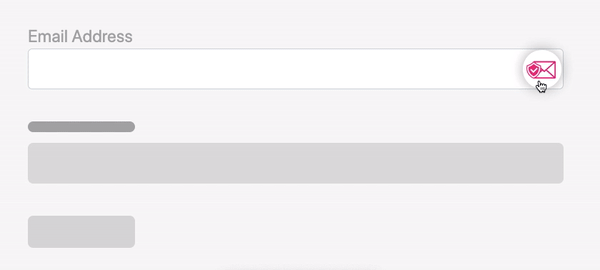 Don't share your real email address with every website: create a temporary random email address (called alias) instead. Keep your main email address private and protected.
2.
Keep your inbox clean from unwanted emails
Emails sent to your disposable alias are instantly forwarded to your inbox. And if you reply, the response is sent from your alias, your real email address stays hidden.
3.
Deactivate your temporary alias address
No longer in need of the email alias you created? Burn it! All emails sent to your temporary email address will no longer be forwarded to your inbox.
The first email burner that you fully control
Create throwaway email addresses on the go from your browser, computer, or your phone.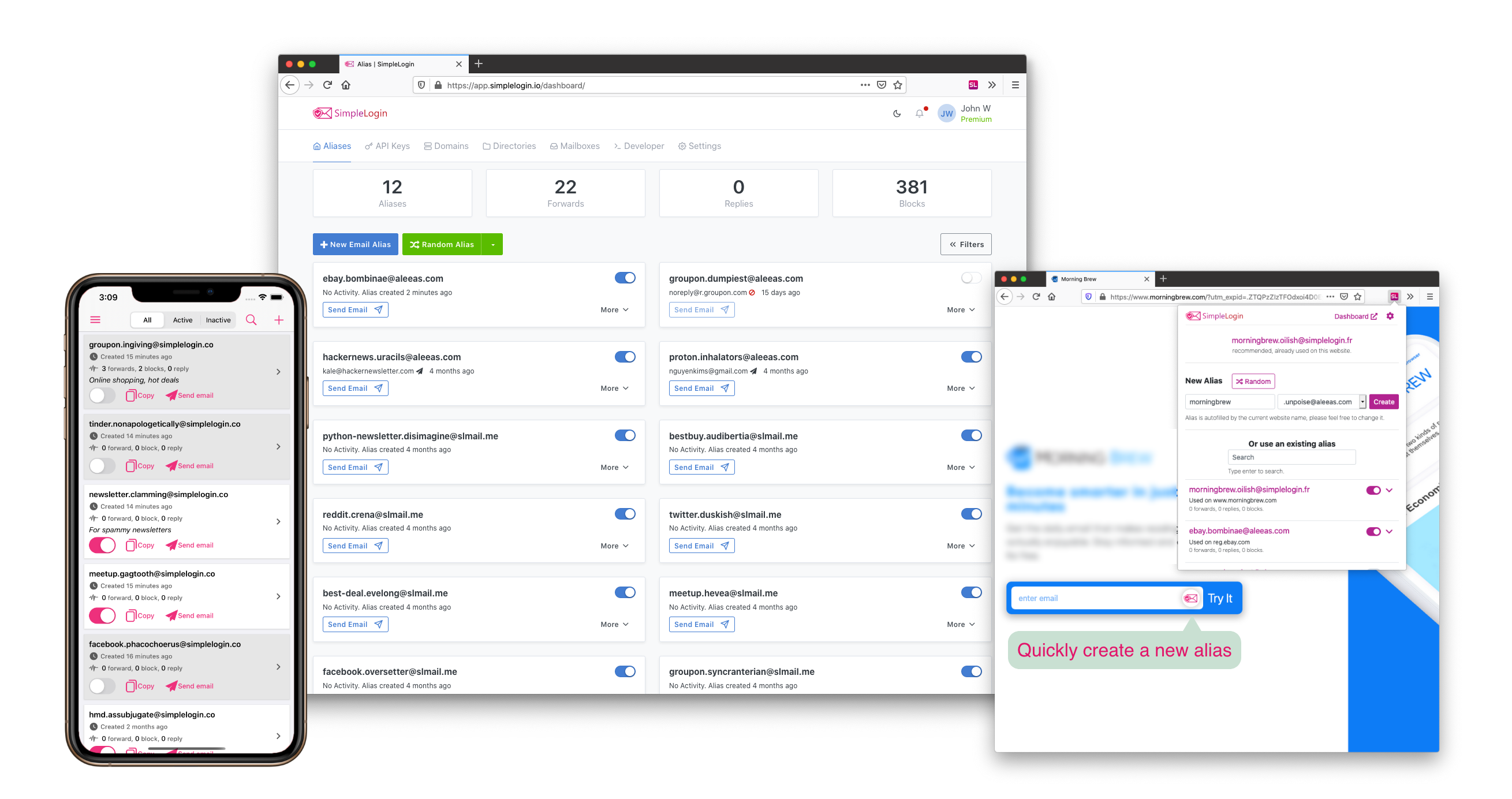 Privacy and security features
Add a layer of privacy and security and keep your inbox clean.
Thanks to our profitable and ethical business model, we don't need to collect your data or display ads.
Create up to 10 temporary email addresses in our free option. Unlimited messages and bandwidth. For more addresses and advanced features, you can upgrade to the premium plan.
Reply from your temporary address
Not only can a SimpleLogin temporary alias receives emails, it can also send emails. Reply to a forwarded email and the response will be sent from your alias, your real email address stays hidden.
Regain control of your inbox
Your inbox is polluted with unwanted emails? Just turn your disposable address off. All future emails sent to this address will be blocked. Turn it back on if you change your mind and you will receive incoming emails as if nothing happened.
Use it on your phone or laptop
SimpleLogin is available on web, iPhones and Android phones. All temporary email address created from one device will be instantly synced to all other devices where SimpleLogin is installed.
Want to create an email address with your own domain? We provide a simple DNS configuration to generate personalized email address directly on your domain.
Are you a cybersecurity-minded person? We are. That is why SimpleLogin provides security best practices like 2FA with TOTP and/or WebAuthn (FIDO) to keep your account secured.
SimpleLogin code is totally transparent and accessible to anyone so you know how we manage your data and the email sent to your disposable address. Certified by an external audit, SimpleLogin gathers an active community of privacy-minded developers that actively contribute to the stability and improvement of the service.
Concern with your online privacy? We get you. SimpleLogin supports PGP encryption, the same protocol used by Edward Snowden. Add your Public PGP Key to SimpleLogin and we will automatically encrypt all forwarded emails between your temporary email address and your inbox.
Help
Frequently Asked Questions
A SimpleLogin email alias, also known as burner (or temporary or diposable) email address, is a forward email address: emails sent to an alias are instantly forwarded to your inbox.
Thanks to SimpleLogin technology, you can also send or reply to emails from an alias.
In the age of data mining and hyper-targeted online advertising staying private while browsing online has never been harder. Companies that run an ad-driven business model invest anything in their power to keep track of every data you might give them while doing even the most simple actions online.
Using a service like SimpleLogin will help you be safer online:
Keep your inbox clean of unwanted emails
Hide your real email address when signing up on a new website
Protect your email from data breaches
Better control your identity while browsing online
Just see for yourself,
create a free account
and next time you need to register on a website you don't totally trust, use a SimpleLogin fake email
instead
of your real email address.
While creating your email alias, you can set up to which email address SimpleLogin will forward all incoming emails. This redirection works with any email provider (Gmail, Hotmail, ProtonMail, YahooMail, etc.) as long as you can confirm you are the person owning the email address by clicking on a confirmation link. Once your alias is created you will receive all the emails sent to your alias directly in your primary inbox. This adds a layer of privacy and security between you and the website you sign up on.
SimpleLogin has been created by a team of developers that take online privacy very seriously. They realized that one of the pillars of our online identity was our email address. With the increase of data breaches, phishing, SPAM emails, and data mining, keeping our identity private and secure has never been more of a challenge. SimpleLogin was founded by Son in 2019 with the goal of adding an extra layer of email protection. In April 2022, SimpleLogin was acquired by Proton the company behind the leading encrypted email service: ProtonMail.

Feel free to reach out if you have any questions or suggestions regarding SimpleLogin services.
Here's how to create a disposable email address for short or long terms use:
Click on "Create an alias" and set up the email it will forward incoming emails to
If you no longer need your alias, just turn it off and all email redirection will be paused.
Your alias will be functioning until you decide to turn it off.
Absolutely, we call this a reverse alias. Anytime you reply to a mail sent to your alias from your main email address, SimpleLogin will process the change of the reply email address to your alias. That way your identity is masked even if you reply to an email.
Of course! Each disposable alias you create on SimpleLogin can be deactivated with a single on-off switch. When your alias is in the trash, all email incoming emails sent to your alias will be blocked. Change your mind? Turn your alias on again and emails will be forwarded as usual.
As explained in our privacy policies, SimpleLogin doesn't collect any more data that it needs to run its services. Unlike many email burners, our business model is transparent and based on premium subscriptions only. We don't need to use sketchy technics to generate revenue by tracking you to better target you with advertising. We think that those technics are a thing of the past and don't match our idea of the future of the Internet.
It may happen that some websites arbitrarily decide to block SimpleLogin domain. Hopefully, since most of our users use SimpleLogin use responsibly this only happens in a few edge cases. If that happens we encourage you to contact the website and ask them to unblock the domain name. If they have a sincere sense of privacy they will understand and make the necessary changes.
To prevent that from happening you can also add your own custom domain to SimpleLogin. That way you will be able to generate a disposable email address with a domain that only you can use.
SimpleLogin has been made for that! Unlike most temporary email generators, you can use your SimpleLogin alias to register on any website! Since you can receive and reply to any email with your alias, you will be able to use your alias as any email. SimpleLogin email aliases can be used for permanent use.
For years email burners like Temp-mail or Yopmail have been the most common way to prevent using your real email address while browsing online. SimpleLogin takes the concept a step further:
Generate a unique disposable alias for each website
Throwaway your alias when not needed
No persistent behavioral tracking
Sustainable business model (No ads)
Cross-device (Browser extension, iOS, and Android application)
Reverse alias to keep your primary address private even when replying
Create an account
and see it for yourself!
Helping 250 000+ users to stay anonymous
⭐️⭐️⭐️⭐️⭐️ (5/5)
This has to be one of the best burner mail extensions I have ever tried. Believe me I tried quite a lot of them 😅. The closest that comes in smoothness wise is paced email. But Simple Login is ahead of them with regards to privacy. Even Burner mail (a highly rated burner mail extension) is not as good as SimpleLogin. It in just a couple of months has become an integral part of my workflow TBH.
⭐️⭐️⭐️⭐️⭐️ (5/5)
This is so useful! I can finally protect my privacy by not giving my personal email address to not trusted website with this extension! Works perfectly :) :)
⭐️⭐️⭐️⭐️⭐️ (5/5)
It's awesome. It's even better when you pay the small subscription fee, and if you want to use your own domains and more. It's not just a Browser extension, it's also a mobile app. I have used it for around 6 months now with a yearly subscription. There are tons of things you can do with your account. It's being actively developed, so you can suggest ideas and give feedback straight to the developers. Pay for the subscription, help keep this great open source project going! Highly recommended!
⭐️⭐️⭐️⭐️⭐️ (5/5)
This is one of the best Email Alias Services I have used. I have tried burner email, anon daddy paced email and a few more, but Simple Login has come up on the top each time on each feature. I believe this is a must have for both privacy and productivity enthusiast being one of the rare services which can cater to both niches.
⭐️⭐️⭐️⭐️⭐️ (5/5)
I'm so thankful for the simplicity and power within this service. Just learned about the feature that lets you create an alias on the fly in a browser with the share button. That was the convenience needed to get me to use the service for almost everything it can help with now. Good work, team! You have my support!
⭐️⭐️⭐️⭐️⭐️ (5/5)
I found out about SimpleLogin in a Reddit group and it sounded perfect for my needs. After using it for a month I do find it a great privacy solution. I paired it with an encrypted email provider so Google stops reading my email and now I don't have to give me address to anyone thanks to SimpleLogin!! I use the browser add-in for brave and the iPhone app.
⭐️⭐️⭐️⭐️⭐️ (5/5)
This is the best throwaway Email app I've ever used. I've tried many. This one is smooth and works great and easy to find, select, and create. I wish the settings screen worked as it generates an error saying "this is not In the correct format" so it won't open, but outside of that, I love this app. I recommend. Feedback would be to get the setting screen working and allow us to change the settings just like what's available on the website. Thanks!
I used to be excited when receiving new emails.
But thanks to thousands of data breaches, to the 200 billions data broker market, my inbox is now full of unsolicited, impossible-to-unsubscribe and personalized cold emails.
When we use our personal email everywhere, it becomes our online identity and our activity can be easily linked together. VPNs, password managers, Ad Blockers don't help here: we are tracked by our email address.
That's why I started SimpleLogin to have control over the emails we receive.
And so we can finally be protected from data breaches, cross-site tracking, personalized advertising.
Since our launch in 2020, we've helped over 250.000 people gain back control over their inbox and I'd love for you to give it a try.
In 2022, we've been acquired by
ProtonMail
to help in their fight for a more private and free Internet.
Sincerely,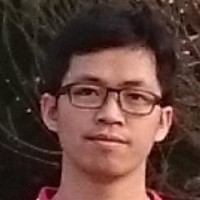 Son Nguyen Kim
CEO & Founder of SimpleLogin