Temp Mail VS SimpleLogin
SimpleLogin and Temp Mail are websites that allow you to use a disposable email address instead of using your real one. Create a unique email address anytime you sign up on a new website, make an online purchase or subscribe to a newsletter. Although the two services might seem similar, their approach is totally different.
250 000+ users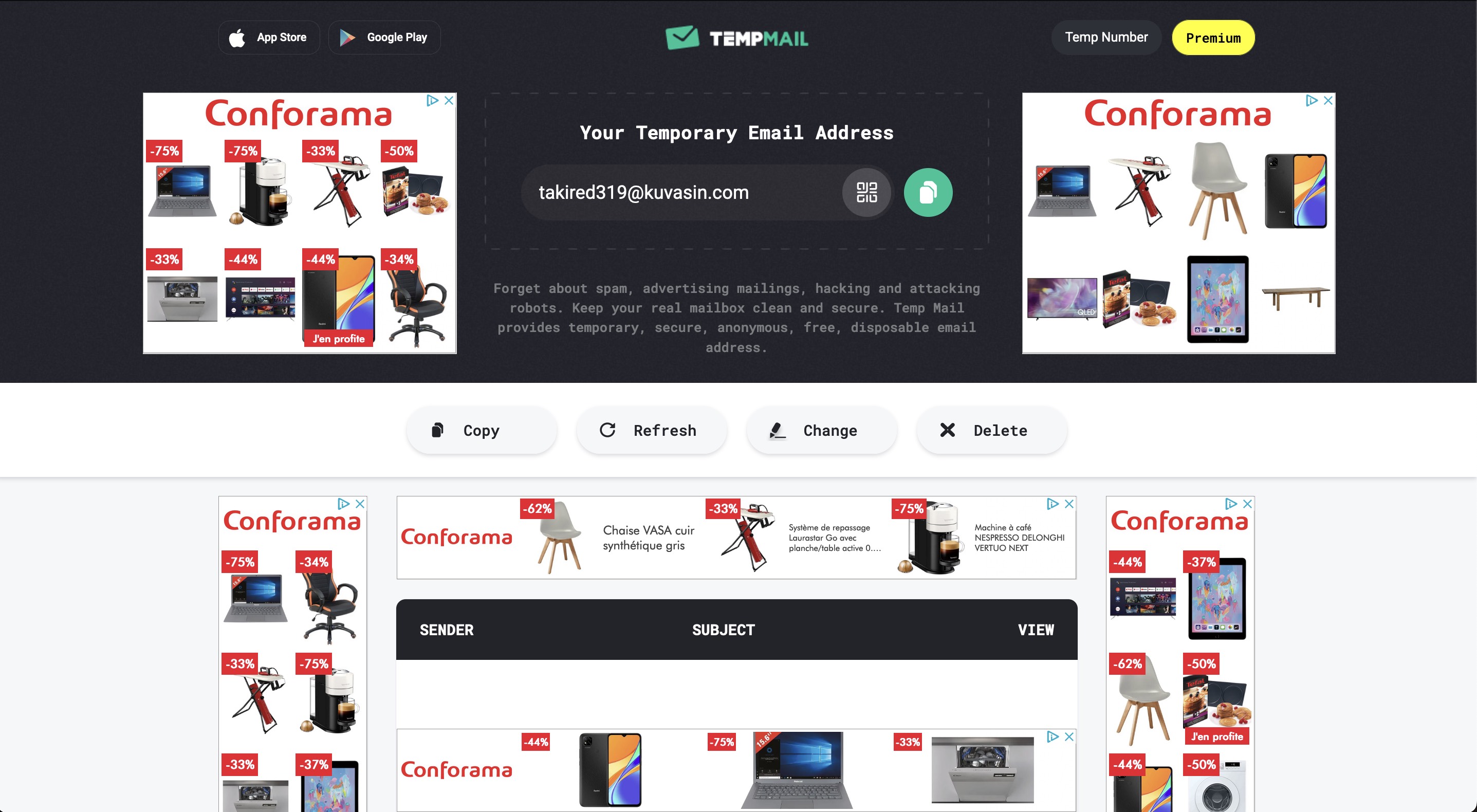 Private alternative to Temp Mail
SimpleLogin provides all the features of Temp Mail, along with many additional benefits. Temp Mail addresses can only be used for a short period of time, while SimpleLogin allows you to permanently redirect email from an email alias to your mailbox. SimpleLogin requires you to register with your existing email address, and is linked to your existing inbox which makes it easier for long term use, while still hiding your real email address from spammers.
Temp Mail
SimpleLogin
Free trial
✅
✅
Mobile App
✅
✅
Browser extension
✅
✅
Custom domain
✅
✅
Short term use
✅
✅
Long term use
❌
✅
Custom address name
❌
✅
Reply (with cc & bcc)
❌
✅
Send email
❌
✅
Inbox
Shared
Private
Advertising
Yes
None
Trackers (Web)
3 detected1
None3
Trackers (Mobile App)
21 detected2
None3
Premium plan
$10.00/month
$4.00/month
Last update: November 21th, 2022
Help
Frequently Asked Questions
A disposable email address consists of using an email addresses that may be throwaway whenever necessary. The main benefit from using a disposable email address is that if the address gets compromised, the user can simply get rid of it.
An email alias is similar to a forward email address: all emails sent to an alias will be forwarded to your inbox. Thanks to SimpleLogin technology, you can also send emails from an alias. You can use an email alias to not share your real email address. You can receive and send email anonymously with email aliases.
Here are the main advantages of an email alias tool like SimpleLogin compare to a disposable email generator like TempMail:
Fully control your email alias (name, expiration, inbox etc.)
Reply or send emails from your alias
Keep on using your own email address
No ads or tracking
Keep your inbox clean and private
Support PGP encryption
Supported by a strong community of open source developers
Create a free SimpleLogin account
and start covering your tracks online.
You can not. The temporary email address generated by Temp Mail changes whenever you open their sites (one email address for each session). Unfortunately, if the email address that is displayed on Temp Mail is different from the one you previously had, there is no way to recover your previous email address.
It is unclear how long a Temp Mail email address last exactly. It seems that an email address is generated for each web session. The disposable email address generated may be different when revisiting Temp Mail website.
No you can not. According to Temp Mail FAQ, TempMail does not give to its users the possibility from email address generated by Temp Mail. They don't plan on adding this feature in the future, and they fear it is used for SPAM and fraud purposes.

Thanks to SimpleLogin's reverse alias, you can reply and send emails from your alias. SimpleLogin also has security processes to avoid sending and receiving SPAM or phishing attempts.

Here is what their FAQ says: "Sending email is completely disabled and we are not going to implement it due to fraud and spam issues."
It often occurs that TempMail domains get blacklisted. When signing up on a new website with a TempMail email address, you may sometime face an error message. Many websites indicate clearly that you can not use an email address from a domain associated with Temp Mail. But it also happens that sites display a more generic error message without any further precisions. In most case, if you struggle to sign up when using a temporary email address from Temp Mail, that meant that the domain that you use has been blacklisted.

However, Temp mail regularly adds new domains to its service to prevent websites from blocking all of its domains. There is no way to know exactly if you will be able to sign up on a website using a disposable Temp mail email address.
6 reasons to use SimpleLogin over Temp Mail
Add a layer of privacy and security and keep your inbox clean.
SimpleLogin generates revenue thanks to our Premium subscription. That way,
SimpleLogin doesn't need to monetize its service with online advertising
. SimpleLogin product and apps does not have any trackers installed from third-party.
Customize your email address
Each burner email addresses created with SimpleLogin are randomly generated and unique. You can also customize the name of your temporary email address. With just a click, create a unique email alias that will redirect all incoming emails to your primary email address.
Email alias vs Email burner
Most email burner websites like Temp Mail allow you to create a fake email address that last no more than 10 minutes. SimpleLogin gives use the option to use and reuse any email alias you create whenever necessary.
All incoming emails sent to your throwaway email address will be redirected to the email address of your choice. You can also reply or send emails from your temporary email address by using our reverse-alias.
With SimpleLogin you decide when to get rid of your temporary email address. You can keep it for 10 minutes, 1 day, 1 month or 5 year, you decide. Select the email alias you created and turn it on and off whenever you need it or not. Turning your email alias off will stop any emails redirection to your main email address.
Set your forwarding address to the email address of your choice and receive emails directly in your inbox. SimpleLogin login adds a layer of security and privacy. You don't need to change your organisation or your habits with email.
Helping 250 000+ users to hide their email address
⭐️⭐️⭐️⭐️⭐️ (5/5)

You've just found the right way to do email my friend! Instead of giving out your one address to everybody, create new forwarding addresses easily to give instead, and they'll all send the emails you get to the same place for you. This gives you much better security, privacy and control over your email. If the company you give the alias to has a breach, you can just replace the alias instead of your whole darn email. If the service you give it to spams and won't stop, you can easily cut ties right then and there. You can compartmentalize by using different emails for different things, keeping your online profiles from being tied together. Simple Login actually checks all the right boxes: free, open source, easy to use, and bug-free. You can also check out Anonaddy for similar (though slightly harder to use) option, and guerrillamail for temporary emails. Was recommended to me by YouTube channel Techlore, glad to know about this criminally underrated app.




⭐️⭐️⭐️⭐️⭐️ (5/5)

Seriously, I can't recommend this enough. First off, they have a really well designed and well functioning app, which is way more than I can say for other email forwarding/disposal email out there. Most are web-based. Secondly, and most importantly, they have privacy and security focused policy. And get this: they don't paywall essential features. You could literally use it for free. Their premium plan is only $2.99/month, less than a cup of coffee. Please, please, please spread the words if you can. And support if you can. Thanks to everyone at SimpleLogin.



⭐️⭐️⭐️⭐️⭐️ (5/5)

This is the best throwaway Email app I've ever used. I've tried many. This one is smooth and works great and easy to find, select, and create. I wish the settings screen worked as it generates an error saying "this is not In the correct format" so it won't open, but outside of that, I love this app. I recommend. Feedback would be to get the setting screen working and allow us to change the settings just like what's available on the website. Thanks!




⭐️⭐️⭐️⭐️ (4/5)

My new favourite toy. Some time ago my primary personal Email address appeared in data breaches, even from trusted businesses who were simply unfortunate victims of cyberattacks. Once your address is exposed out on the web, there is no undoing that. You get spammed relentlessly by malicious actors and it'll continue indefinitely. The only way to escape is to go through the hassle of making a new Email address and assigning it to your every online account. SimpleLogin changes the game. It works almost entirely seamlessly, doesn't feel clunky and the customisation is superb. Great website and applications, too. Like a password manager generating unique passwords for every account, SimpleLogin can do just the same for your Email addresses. So, why four stars? Though I cannot emphasise enough how close SimpleLogin gets, nothing's perfect. A tags and filtering system for SimpleLogin aliases (including in the keyboard, perhaps) would be fantastic for digging around my plethora of aliases. SimpleLogin, you're on the right track. Keep it up, I am happy to support you with what little I can offer.




⭐️⭐️⭐️⭐️⭐️ (5/5)

SimpleLogin is very easily one of the best apps I've ever used. The ability to create your own subdomains for concealing your true email address from spammy websites is just second to none. I highly recommend the premium subscription, it's worth every penny being able to customize catch-all email addresses on the fly. I've had no problems so far; it's simple and easy to use, and well documented and great UI as well.




⭐️⭐️⭐️⭐️⭐️ (5/5)

Not sure why but this review keeps getting removed. Trying again- SimpleLogin should be used by anyone that has an email address. Why use SimpleLogin? 1. Have a unique email address for every service you use- This increases privacy as accounts can't be linked via common email addresses. This also increases account security as a unique email is now required along with your (hopefully) unique password to login. 2. Forward emails to multiple email accounts- If you have an account (eg Netflix) where you want to share the emails with a partner/friend/colleague etc you can easily have SimpleLogin forward emails to both, or multiple addresses without having to add those addresses to the service directly. Forwarding addresses can be switched on and off easily too. 3. Save money on paying for many alias addresses with your email provider by utilising SimpleLogin to create the aliases, great for ProtonMail accounts. 4. Easily switch your email service provider without having to manually change multiple account email addresses, simply update the forwarding address in SimpleLogin to point at your new email provider. There is a free tier so you can try without having to subscribe and you might find the free tier provides enough, although I think the subscription is worth it.




Create temporary email address anywhere
SimpleLogin is compatible with most of the browsers and devices. You can create a temporary email address whenever necessary in just a few clicks.