Protect your privacy with email aliases
With email aliases , you can finally create a different identity for each website. Defend against spams, phishing and data breach. Open-source. Made and hosted in EU 🇪🇺
2,000,000+ emails protected.
How it works
Shield your mailbox with email alias.
1.
A different email alias for each website.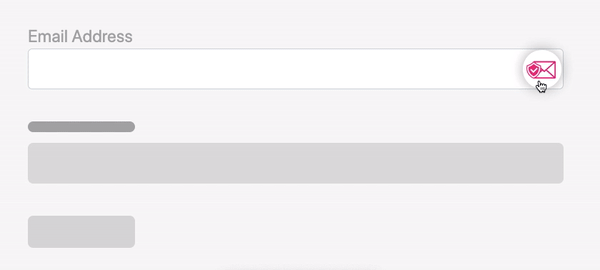 The next time a website asks for your email address, just create a new alias.

2.
Receive emails safely in your mailbox.
Emails sent to an alias are forwarded to your mailbox without the sender knowing anything.
You can also send emails or reply anonymously from your alias.
Create and manage your aliases everywhere
Quickly create an alias on the go. Sign up for a newsletter, create a new online account with a click.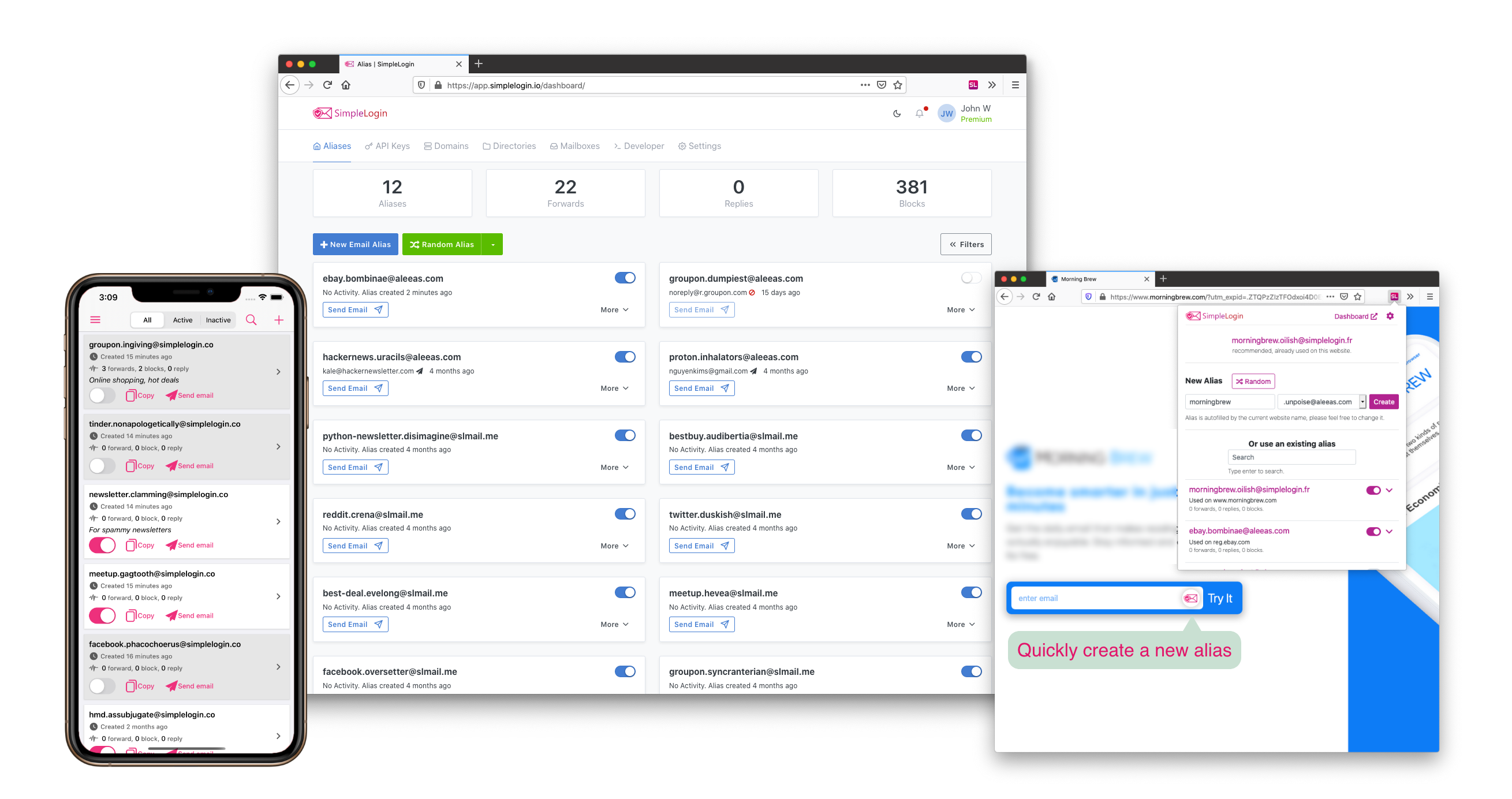 Alias is the new email address
A. Replace email by alias everywhere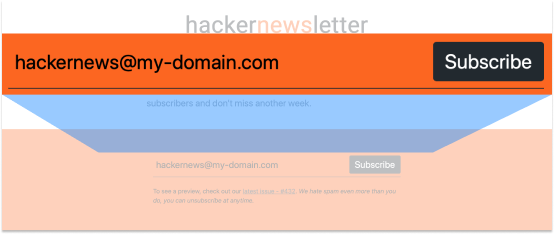 Subscribe to mailing lists, create new online accounts with email alias.
Later on, simply block an alias if it's too spammy.
B. Send emails from alias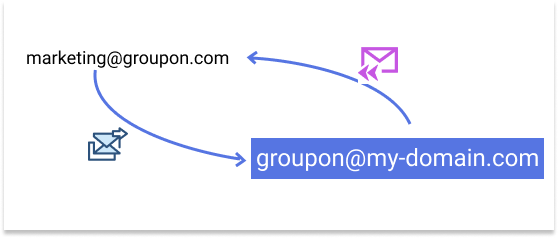 Just hit "Reply" whenever you need to reply to a forwarded email: the reply will come from the alias and your personal mailbox stays hidden.
You can also send emails to any email address from your alias.
C. Run your business with alias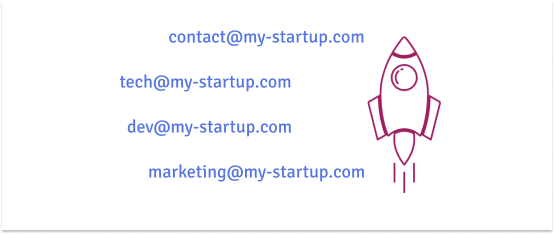 Use alias as your business email.
Save $6/month for each business email created with SimpleLogin.
50+ and counting businesses trust SimpleLogin to run their emails.
SimpleLogin is loved by users
Privacy, security and features you'll love
SimpleLogin is the most advanced email alias solution.
100% open-source
Built upon open-source technology, all SimpleLogin components are also open-source.
You wouldn't trust a black box to handle your emails, would you?
Send emails from alias
Not only can an alias receive emails, it can also send emails. An alias is a full-fledged email address.
Everywhere
Manage your aliases on SimpleLogin website or on our Chrome, Firefox, Safari extensions.
Or on your phone with Android (Play Store, F-Droid) and iOS apps.
Custom domain
Bring your own domain and you don't have to buy yet another email hosting solution.
And do you know that you can have catch-all alias with your domain?
Generous pricing
All SimpleLogin plans have infinite forwards/sends and unlimited bandwidth.
Receive and send emails as much as you like.
On-the-fly aliases with directory
Create your directory, and use it to quickly create aliases without opening SimpleLogin web or mobile apps. Learn more.
Multiple mailboxes
If you already have several mailboxes, this feature is for you: you can add your mailboxes into SimpleLogin and choose which one to use when creating an alias. Learn more.
Privacy & Security
With PGP, encrypt the forwarded emails with your own PGP key. Only you can then decrypt these emails. Works perfectly with Protonmail or any OpenPGP tools (Enigmail, GPG Tools, etc).

To better secure your SimpleLogin account, you can enable 2FA with TOTP and/or WebAuthn (FIDO).
More than (just) alias
SimpleLogin's ambition is to protect your online privacy and email is only the beginning.
Stay tuned for upcoming features like single sign-on, phone number protection and credit card protection.
Help
Frequently asked
questions
Roadmap
No more sign-up form

Live

You can quickly sign in on any website that has "Sign in with SimpleLogin" button.

And you can decide and customize what information you want to share with a website.

Custom alias domain

Live

You can add custom domain for your alias, for example my_alias@my_domain.com.

Open-source

Live

SimpleLogin code is fully open-source on Github.

Directory (or username)

Live

Simply use your-directory/ANYTHING@simplelogin.co
next time you need an email address.

Safari Extension

Live

The next browser to be covered after Chrome & Firefox.

iOS & Android App

Live

Manage aliases on the go.

Additional Mailboxes

Live

You can add additional mailboxes and use them for your aliases.
Handy when you already have several mailboxes or want to create aliases for your friends.

OpenPGP support

Live

Bring your own PGP key or use our public key to encrypt all forwarded emails.

FIDO (or WebAuthn)

Live

Further secure your account with security keys (YubiKey, Google Titan, etc).

And other exciting features!

We need you!

Check out our full Roadmap on Trello.
Don't hesitate to submit new ideas or vote on features you like to happen.