Don't lose your email to spammers
Protect your personal email with email alias.
Quickly create email aliases with our Chrome, Firefox, Safari extension.
Use email alias as your business email.
How it works
Or the journey to a sane inbox.
1.
Sign up and start creating aliases
The next time a website asks for your email address, just create a new alias instead of using your real email.
2.
Receive emails safely
All emails sent to an alias are forwarded to your "real" email address without the sender knowing anything.
3.
Create aliases without leaving the browser
Quickly manage aliases with our browser extension and mobile apps.
What you can do with aliases
A. Replace email by alias everywhere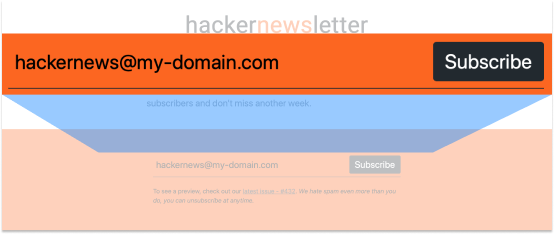 Subscribe to mailing lists, create new online accounts with email alias.
All emails sent to an alias will be forwarded to your personal inbox.
Later on, simply block an alias if it's too spammy.
B. Send emails from alias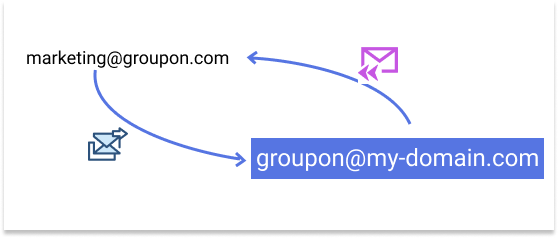 Not only an alias can receive emails, it can send emails too.
Just hit "Reply" whenever you need to reply to a forwarded email.
The reply will come from the alias and your personal email address is never revealed.
C. Run your business with alias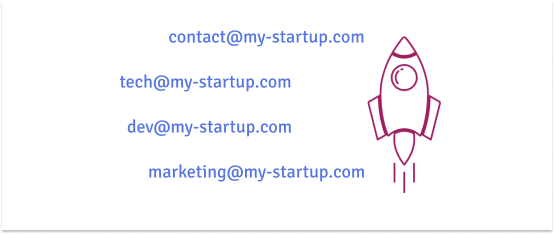 Use alias as your business email.
Save $6/month for each business email created with SimpleLogin.
By the way our company emails are actually aliases 🤫.
Privacy, security and features you'll love
Your data is always private.
100% open source
Built upon open source technology, SimpleLogin is also fully open source.
You wouldn't trust a black box to handle your emails, would you?
Browser extension
Manage your aliases on SimpleLogin Chrome (and other Chromium-based browsers like Edge, Opera, Brave, etc), Firefox and Safari extension.
Mobile apps are coming soon.
Send emails from alias
Not only an alias can receive emails, it can also send emails. An alias is a full-fledged email address.
Custom domain
Bring your own domain and thanks to alias technology, SimpleLogin could replace your email hosting solution!
And do you know that you can have catch-all alias with your domain?
Generous pricing
SimpleLogin free plan has infinite forwards/replies and unlimited bandwidth.
Anyone should be able to protect their mailbox for free.
On-the-fly aliases with directory
Create your directory, and just use your_directory/ANYTHING@simplelogin.co next time you need an email address with ANYTHING can be anything 😉.
Multiple mailboxes
If you already have several email addresses, this feature is for you: you can add several real email addresses into SimpleLogin and choose which one to use when creating aliases. Learn more.
PGP Encryption
Encrypt the forwarded emails with your own PGP key. Only you can then decrypt these emails.
More than (just) alias
SimpleLogin ambition is to protect your online privacy and that doesn't limit to just email.
Stay tuned for upcoming features like single sign-on, phone number protection, credit card protection.
Testimonials
SimpleLogin is loved by users
Help
Frequently asked
questions
---
Roadmap
No more sign-up form

Live

You can quickly sign in on any website that has "Sign in with SimpleLogin" button.

And you can decide and customize what information you want to share with a website.

Custom alias domain

Live

You can add custom domain for your alias, for example my_alias@my_domain.com.

Open source

Live

SimpleLogin code is fully open source on Github.

Directory (or username)

Live

Simply use your-directory/ANYTHING@simplelogin.co
next time you need an email address.

Safari Extension

Live

The next browser to be covered after Chrome & Firefox.

iOS & Android App

Beta

Manage aliases on the go.

Additional Mailboxes

Live

You can add additional mailboxes and use them for your aliases.
Handy when you already have several email addresses or want to create aliases for your friends.

OpenPGP support

Live

Bring your own PGP key or use our public key to encrypt all forwarded emails.

And other exiting features!

We need you!

Check out our full Roadmap on Trello.
Don't hesitate to submit new ideas or vote on features you like to happen.